I admit it. I do what they say you are not supposed to do: I check my Amazon ratings every day. Sometimes more frequently than that, if things are slow. I have developed a sense of what the "right" rating should be. If my books are in that range (generally 40,000 to 125,000), then all is well. If they exceed those expectations, then great! And if they fall short, well, it's no big deal — I don't live or die by those fluctuating numbers — but I admit I am 1% more irked than I might otherwise be.
I came back from my weekend excursion to find that somebody, somewhere, had instituted a Winston Breen boycott. 400,000?! What the? No way!
The rating has since recovered, but it was down there in the doldrums through Sunday and for most of yesterday, and I was indeed 1% more irked. Maybe even more than 1%.
Until the letter arrived.
I don't get a lot of reader mail. A couple of e-mails a month, and maybe the odd handwritten letter sent to my publisher, which generally gets forwarded to me six months later. When the kids do write, they are charming and funny and enthusiastic, and they often send me puzzles and riddles. Never before, though, have I received something like this: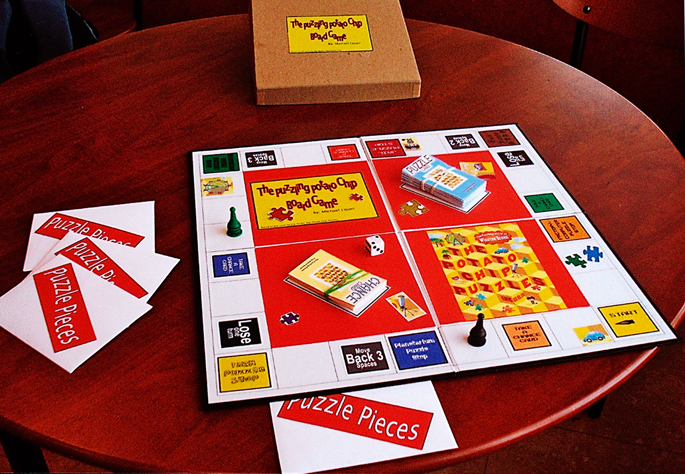 Yes, that is a picture of a board game that Michael, a sixth-grader in New Hampshire, was inspired to make after reading The Potato Chip Puzzles. The game follows the plot of the book: You move your game piece around the board to six different locations. At each location, you solve a puzzle (drawn from a stack of Puzzle Cards), earning a puzzle piece if you get it right. Meanwhile, there are also Chance Cards which represent the actions of the saboteur — just like the characters in the book, you might lose a turn to a Back Tire Wedgie.
The student and his teacher sent me some pics, and also threw in a few cards. The Puzzle Cards show a wide range of puzzle types — I've got eyeball benders here, and wacky rhyming phrases, and a word ladder.
In short: WOW! Thanks, Michael! You totally made my day.