Long-time readers of this blog might remember that years ago, I received an actual Letter of Lawyerly Legalness from the attorneys representing Timothy Parker, editor of the USA Today crossword puzzle. A number of issues arose on a cruciverbalists' mailing list, regarding some discrepancies in Parker's bio and the general inconsistency of his editing. I hashed them out here as well. He didn't like it much.
(You're now tempted to go searching for those posts. Alas, they all went kablooey during a software upgrade, back when blogging wasn't the push-button operation it is today. I've been blogging since 2000 or so; my current archives start in 2004. I am occasionally re-aggravated about this. Like now.)
ANYWAY, I haven't bothered much with Mr. Parker lately. There are so many good puzzles out there now, USA Today's poor quality doesn't really matter anymore. Sometimes I'll check out the #badpuzzles hashtag on Twitter, which documents the various atrocities that Parker commits against crosswords — that's always good for a chuckle. In the not-so-distant past, I believe it was Parker who gave us a grid that had been divided into thirds by the black squares. (Update: Ah yes, here it is.) And I'm quite sure it was he who accepted a puzzle with the theme entry NICKELS AND DIMES… except with nickels spelled wrong.
But the most recent error is so headshakingly good, I had to share it. Let us now admire the clue and answer to 29-Across in today's puzzle.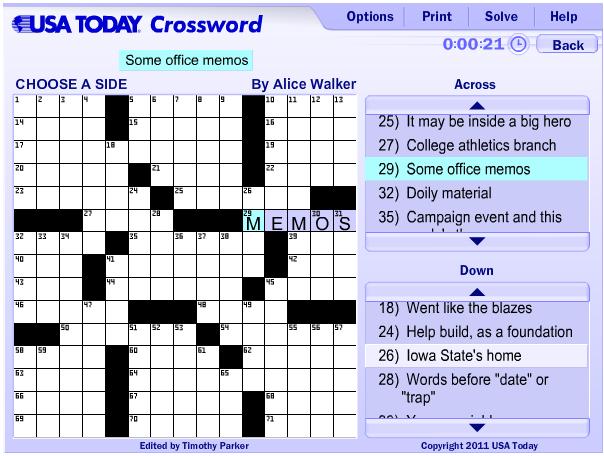 Update: It looks like Parker slips at least partway off the hook on this one — according to two commenters, the error was only in the online version. The clue in the newspaper was "Some office notes," which is not nearly as amusing.